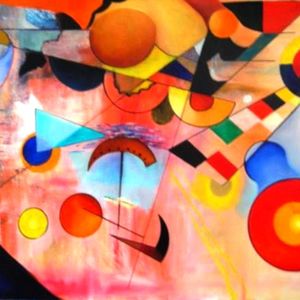 LORSQU IL PEINT IL COMPOSE UNE HISTOIRE A RACONTER PAR LES FORMES ET LES COULEURS, SON CHOIX DES COULEURS N'EST JAMAIS FONDER A L'AVANCE ET CE N'EST QU'AU FILE DE CES REFLEXES VISUEL QU'IL DEPOSE ET COMPOSE SONT TABLEAU .
MEME LES PAYSAGES ET NATURE-MORTE SONT AUX TRAITS FRANC ET LISIBLE ET GARDE LEURS FORMES PRIMAIRES MEME SI PARFOIS IL Y MELE DES TRAITS ABSTRAITS .
DANS SA RECHERCHE ARTISTIQUE IL REUSSIS A COMPOSER UNE FORMULES QUI PERMET
A L'HUILE DE SECHER ASSEZ RAPIDEMENT CE QUI LUI LAISSE LA LIBERTER DES CES GESTES PEINTRE AUTODIDACTE C'EST PAR EXPERIENCE ,LES ERREURES ,ET UN TRAVAIL ASSIDUS
QU'IL A REUSSIS A S'IMPOSER ET LUI A PERMIT DE PARTICIPER A DES EXPOSITIONS
PERSONNEL ET EN GROUPE

WHY DOES IT PAINT ?
THIS IS BECAUSE IT CERTAINLY A DESIRE TO SPEAK OTHERWISE THAN WORDS
WHEN HE PAINTED IT MADE A STORY TO TELL BY THE SHAPES AND COLOURS, ITS COLOR CHOICE IS NEVER FOUND IN ADVANCE AND THIS IS ONLY FILE THAT SUCH REMOVAL AND VISUAL REFLEXES ARE MADE UP TABLE .
EVEN NATURE-LANDSCAPES AND STILL ARE THE TRAITS AND READABLE FRANC AND GUARD THEIR PRIMARY FORMS EVEN IF SOMETIMES THERE MELE TRAITS ABSTRACT.
IN HIS ARTISTIC RESEARCH CALL IT A SUCCESSFUL FORMULA ONE THAT ALLOWS
OIL DRY ENOUGH THIS QUICKLY WHICH LEAVES THE PAINTER THOSE THINGS IS SELF-TAUGHT BY EXPERIENCE THE ERREURES, AND HARD WORK
IT HAS A SUCCESSFUL IMPOSE HEM SELF AND PERMIT HIM TO PARTICIPATE IN EXHIBITION
PERSONAL AND ON GROUPE
CES PLANCHES LES MIEUX REUSSIS SONT LES TOILES QUI ONT MAINTES FOIS ETAIT COUVERTES ET RECOUVERTES PAR DES COUCHES DE PEINTURES QUI AU FINALE APPARAISENT EN SOUS-COCHE ET DONNE AU TABLEAU UNE RICHESSES DE COULEURS ET DE TONS .
IL EXPLIQUE L'ABSTRAIT DE CET FACON " L'ABSTRAIT ET UN LANGUAGE VISUELE DE FORME DE COULEURS ET DE LIGNE QUI ELLES FONT LA COMPOSITIONS DES CHOSES QUI EXSISTE MAIS ET UNE TENTATIVE DE REPRODUCTION D'UNE ILLUSION DE LA REALITE
LES DESSINS SIMPLE OU GEOMETRIQUE PEUVENT CE REVELER UN BUT SYMBOLIQUE OU DECORATIF "
BOARDS THE MOST SUCCESSFUL ARE MANY TIMES THAT CANVAS COVERED AND WAS COVERED LAYERS OF PAINT THAT THE FINAL IN similary CHECKS AND GIVEN TO TABLE A WEALTH OF COLORS AND TONES.
IT EXPLAINS THE ABSTRACT OF THIS WAY "THE ABSTRACT AND COLOR LANGUAGE AND FORM OF VIEW LINE THAT THEY THE THINGS THAT EXSISTE COMPOSITION AND AN ATTEMPT BUT REPRODUCTION OF ILLUSION OF REALITY
SIMPLE GEOMETRIC DESIGNS OR MAY REVEAL THIS PURPOSE DECORATIVE OR SYMBOLIC "